Many companies have, or are now looking to, outsource their software development abroad. This has allowed cost reductions whilst maintaining high organisational output. However, there are numerous factors that should go into the decision-making process when deciding which country may best serve your company, with the least risk.
Time Zone Differences
For many companies operating in the west, offshoring software development often requires collaborating across time zones. This may disrupt or delay communication channels.
Say you are a UK company and are working with a team in Vietnam. Whilst a UK team's day would start at 9:00 AM, a Vietnamese dev team's day is already 16:00 PM. This can require preparation of wants and needs from the developers the day before, for developer teams to work on anything that needs more immediate attention the next day. Prior planning for tasks or business needs is necessary in order to reduce inefficient communication and delays.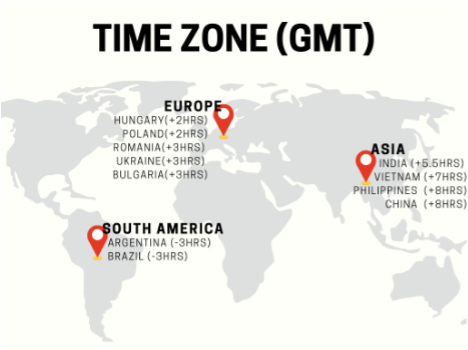 This is not such an immediate problem when time-zone differences are one or two hours behind but be sure to anticipate this when time zones differ increasingly. Here is a list of the best offshoring countries for software development teams with their associated time zones.
Luckily, many companies that provide augmented software development teams in different countries provide later meetings, that fit with company working hours. This may not be true for all, so requires research and due diligence on a company-by-company basis.
Developer Salary
The primary reason for offshoring software development capabilities is that software developer salaries in maturing economies are making software companies less competitive on costs. Salaries in Eastern Europe are averaging at $73,768 for a developer, whilst in North America, they are at $93,077. This greatly impacts business costs and in turn profits. Thus, these offshoring destinations are offering lower salaries, whilst delivering the same quality.
Asia shows the biggest decrease in average salary, at $63.956 so we have highlighted the average salary in the countries that offer the best software development:

Vietnam: Average Developer Salary: $45,848
India: Average DeveloperSalary: $48,918
Philippines: Average Developer Salary: $41,201
In these countries, companies will truly see the value in return on investment, with significantly lower salaries compared to their western counterparts, while still competing effectively on the global scale.
Political Risk
Political risk- how politics within a country affects the risk of business operations- is another consideration when deciding your offshoring country location. Unstable political environments have an increased chance of legislation changes, which can at times be catastrophic for business operations.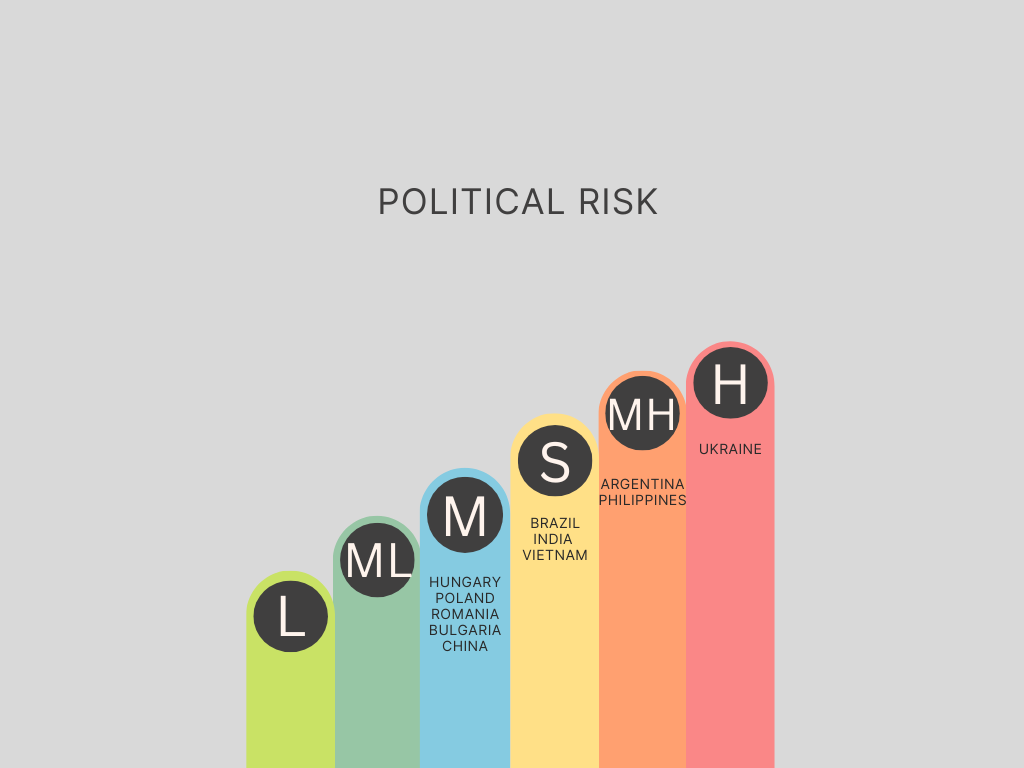 Here is a list of the above-mentioned countries that are good for offshoring software development teams, with the associated, political, economic, and business environment risks in these areas
This shouldn't be the be-all or end-all of decision-making, however. Many companies offshore to these countries due to the reward compared to the risk so this should not be a deciding factor. Political stability can still change greatly, with a current example being the war in Ukraine, which can and has affected business operations. Due diligence prior to outsourcing a company's software development capabilities is therefore a necessity.
A Final Thought
These factors are just a few of the more holistic considerations a company should have in mind when offshoring. There are many more considerations, that will change by country, that covers the more ethical and social factors that a company may want to investigate, for fulfilling social objectives. This requires a deeper dive into a country's socio-economic environment.